Over the past year, ChyronHego has been laying the groundwork to evolve beyond our status as the world's leader in broadcast graphics, to something even bigger.
Through key acquisitions as well as internal development, ChyronHego has assembled all of the components of the CAMIO Universe — our vision of a next-generation, software-driven broadcast operation.
Recently, ChyronHego produced a webinar titled "LAUNCH INTO THE CAMIO UNIVERSE". During this presentation, we described how the CAMIO Universe lets producers build a highly visual and compelling newscast, via a simple template-based workflow, which includes content that heretofore was outside the traditional realm of the newsroom such as weather and virtual and augmented reality content.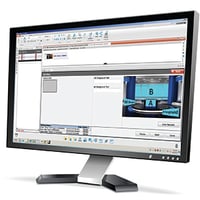 NOW, producers and journalists easily create and integrate, into their newscast, content that includes Lyric graphics, Metacast weather graph­ics, and Hybrid virtual and augmented-reality studio content, all controlled by ChyronHego's Live Compositor multi-camera production suite.
The CAMIO Universe is capturing the attention of broadcasters around the globe, and they're taking the opportunity to consider the advantages of this exciting news production model.
If you missed our webinar or would like to watch it again, then you can by clicking the ON-DEMAND button below.