It might seem to some observers that the move to live 4K productions is moving at a snail's pace. The early adopters, those consumers who made the jump from HD to UHD television sets almost three years ago, have relied on Blu-Ray discs and, until very recently, 4K streaming content from the likes of Netflix and Amazon.
But what about 4K live production content? Sports producers, long considered the pioneers in pushing the live production envelope, are beginning to open wide the 4K tap, and ChyronHego is there.
One of the very first to break the 4K sports remote production barrier was UK-based BT Sport. They launched full-season UHD broadcasts in August of 2015. BT Sport, always looking to improve their viewer's experience, operates in a hyper-competitive market and they were determined to be the very first to deliver live sports content in 4K. And for consumers who have invested in 4K sets, pictures matter most!
Granted, ChyronHego's contribution is confined to the 4K graphics implementation. Along with BT Sport graphic design partner Moov, we knew that the workflow must be seamless and the graphics, now in 4K, must in every way complement – not detract from – the UHD viewing experience. So, how did ChyronHego help BT Sport make the move to 4K graphics?
In a word: Lyric.
Lyric, ChyronHego's graphics creation and playout solution is resolution independent. LyricX, the latest version of the company's long time graphics offering, is now a true 64-bit application. The 64-bit architecture is optimized for 4K workflows and ChyronHego has taken great pains to leverage these advantages with the result being vast improvements in application speed and performance. LyricX is graphics for the 4K generation.
4K FROM CONCEPT TO TRANSMISSION
BT Sport's preparation included the proviso that, from concept to transmission, production had to be 4K from end-to-end. Absolutely no up-res HD content would be permitted. This would require not only an investment in a new mindset, but also a variety of new 4K tools to be housed within a purpose-built UHD OB van that would include three Lyric 4K systems.
Issues? None.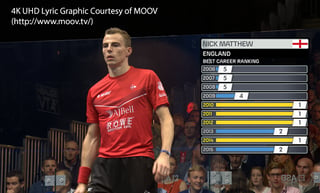 It's important to keep in mind that the move to 4K production workflows is part of a natural progression, and in truth, it isn't as big a leap as the move from SD to HD. After all, the aspect ratio for 4K is the same as it is for 1080p, something that wasn't true during the last migration. Our hardware partners, including Matrox, are driving much of the 4K graphics development. And while clip formats are still playing catch-up, the overall progression of UHD technology fits perfectly into Lyric software development.
LIVING WITH UHD
Nearly a full year on, BT Sport has expanded UHD broadcasts with over 70 events this season so far. But this is not an event-based effort. No proof-of-concepts here. These are true 4K programs broadcast every week. Running as a separate production has delivered the added benefit that all coverage and every game broadcast is tailored for 4K.
Among its growing list of sports programming, BT Sport is currently producing one English Premier League game every week and one Champions League match per round. And, among its list of "4K firsts", Moto GP, Rugby Union, Squash, and Hockey rank as the world's first 4K transmission in their respective sports.
Looking ahead, BT is expanding their 4K infrastructures and IP will surely play a big roll. What's on the horizon? Factoring in HDR. But that's another topic for another blog.