AUGMENTED REALITY'S ROLE IN LIVE SPORTS PRODUCTION
AR, or Augmented Reality, is all the buzz these days. It's "the new thing" to embrace, particularly in video technology circles. Pardon the pun, but AR appears to be popping up everywhere.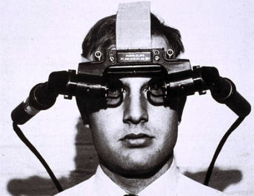 Of course, AR is not all that new. In fact, AR arrived on the scene 50 years ago in 1968. That is when Ivan Sutherland, an Associate Professor at Harvard University, and his student Bob Sproull, created the world's first augmented reality display – head-mounted, no less (Google Glass, indeed!) – which he called The Sword of Damocles, as it was so heavy it had to be suspended from the ceiling.
Since then, many industries and the military have used some variant of augmented reality to perform a multitude of tasks. Within live television production, sports has been and continues to be a major driver of innovative augmented reality solutions. American Football's 1st and Ten yellow first down line is just one early example of AR's impact on the sporting world.
The term "augmented" can be defined in a number of ways. One definition is: Greater than before. I think that particular definition, when applied to live sports production, is quite appropriate. Think about it this way, the role of Augmented Reality must be to improve upon the known experience. Not just enhance it, but advance the league's, the team's, the coach's, the players and, without exception, the fan's understanding and love of the game.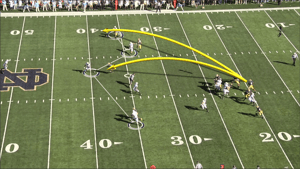 ChyronHego's Paint telestration and analysis solution, which provides fans of all sports with the Illustrated Replay™, does just that. Used either on replay or live within a game, situational data is fed into Paint and visualized as augmented graphics, giving viewers the information they need to more deeply understand the action on the playing field, while significantly adding to their enjoyment of the sport.
Sport Video Group's Sports Graphics Forum returns for its third annual installment on March 7th at the Microsoft Technology Center in New York City, and augmented reality graphics will be among the topics covered.
ChyronHego, a driving force behind the creation of this popular event, is proud to once again assume the role of Title Sponsor. SVG's Chief Editor and Graphics Forum Program Director, Jason Dachman, has pulled together an impressive line-up of panel and panelists, as well as design and technology workshops. You'll want to catch ChyronHego's Director of Sports Analysis, Bradley Wasilition, as he and other experts offer their views during the panel on Augmented Reality: The Wave of the Future Has Arrived.
Later that afternoon, ChyronHego CTO Sören Kjellin will help drive the discussion on Cloud-Based Collaborative Tools: Creating Anywhere, Anytime during what promises to be a highly informative technology workshop.

Over the last several years, ChyronHego's focus on Augmented Reality innovations, such as Paint and Virtual 1st, have dramatically impacted a producer's ability to not only visually enhance the presentation of sport, but also – by definition – advance the storytelling experience beyond what was possible before.
It's these defining experiences that define all that we do at ChyronHego. It's what drives us to first imagine, and then deliver, new augmented reality solutions that serve a singular purpose: to enrich the story while improving the fan's knowledge and enjoyment of the game.
*Image Reference: Ivan Sutherland head mounted VR display, aka The Sword of Damocles.