Reinout Lempers & Soren Kjellin
Beginning in the 1990s, radio broadcasting technology underwent a sea change – from an era of bulky hardware that required highly specialized technicians and a significant capital outlay, to the easy-to-use, software-based automation systems that run most radio stations today.
Fast-forward to present day, and commodity computer platforms and operating systems have grown exponentially in both power and stability.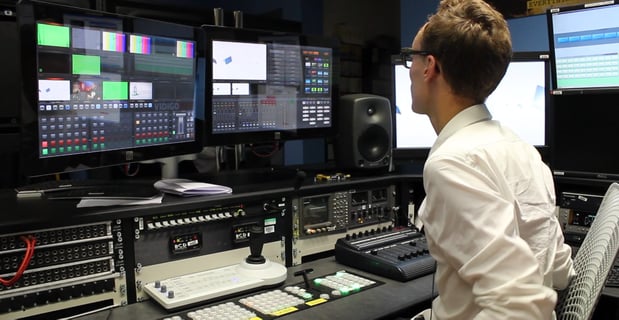 While maturing technology and the rise of IP video are the biggest drivers in the adoption of software automation in TV broadcasting, cultural shifts are also playing a role. A new breed of engineer is entering the workforce, and they're bringing with them a broader view of content creation. Unlike the previous generation, who were trained to be highly specialized on specific types of equipment, the new class of engineers is embracing software-based automation tools the let them flex their creative muscle in a way that simply isn't possible in traditional, hardware-based workflows.
With all of this in mind, broadcasters, particularly those in the newsroom, can take a step forward by looking back at the reasons why radio made the move to IT-based software solutions.
IT-based software solutions are the key to new workflow efficiencies.

While IT-based software solutions will positively impact a range of live production workflows, the benefits are especially compelling in a television newsroom, where seconds count in delivering breaking news to viewers before the competition. With a software-based live production workflow replacing functions that were previously the domain of expensive, specialized hardware, broadcasters can build a "virtual control room" for managing switchers, automation, graphics, and video playout from any location at anytime using a Web browser.
Reduced OPEX and CAPEX.

Besides the obvious OPEX/CAPEX reductions of using lower-cost commodity systems and software, these systems deliver significant cost savings when executed properly. It been proven that an incremental integration with legacy hardware enables an operation to migrate gradually to an all-software environment and maximize the investment in existing switchers, routers, playout automation, and other hardware-based systems.
Less dependence on specialized technical staff.

Savings also result from the extreme usability and automation of IT-based solutions, which in turn enables news operations to produce more content in less time, without increasing staffing levels while paving the way to a diminished requirement for specialized technical expertise.

Consider a TV newsroom in the midst of covering a large, rapidly breaking story. In a traditional environment, making a simple announcement – say, that a fire has broken out in a certain location – requires separate operators to manage equipment such as prompters, graphics, still store, tape machines, switchers, and cameras. So many touch points introduce a higher margin of error, and the intense coordination required means it's more difficult to get the news to air quickly.

Contrast this with an IT-based software automation environment, in which the only real unknown is the news itself. With time of the essence, the software enables a repeatable, reliable environment for packaging and presenting the content with far fewer touch points.
Go bigger by being more flexible.


Flexibility is a critical attribute for automation software. The solution you select should be able to automate every workflow in the newsroom, from camera output to final presentation for viewers. This means complete integration of all functions that were previously handled by isolated hardware, such as switchers, automation, graphics, and video playout. In this manner, the focus is shifted away from the technology and toward the users and their processes for creating content and presenting it to viewers.

The newsroom is now able to deliver the news to air quicker and with greater accuracy with a single solution for automating all essential production functions. The news anchor can sit down in front of the camera, push two or three buttons, and record the piece – and then easily cue it up for the evening's news rundown or the station's social media channel. Here, the content creator – not the technology – is in control. And – most compelling of all – an IP-based solution enables the creation of a "virtual control room" in which news professionals can go to air at anytime and from any location.
Yes, you've heard it before. It really is all about the content.
In the end, television is all about making content – and content has never been more important in today's highly competitive news markets. The growth of IP video on many different types of devices has only compounded the challenge for broadcasters, who now must produce content for multiple delivery outlets without a commensurate increase in staff or budget.
To thrive, television broadcasters know they have to adapt. IT-based software solutions allow adaptation in a straightforward and cost-effective manner. By taking a look back at radio's successful transition, broadcasters will soon be singing a new tune as they seize the competitive opportunity and add a few new hits to their own live production playlists.
---
Reinout Lempers is commercial director of ChyronHego's VidiGo product line. Sören Kjellin is ChyronHego's chief technology officer.