WBTV, the Raycom CBS affiliate in Charlotte, North Carolina, recently became the news ratings leader in its market with a timeslot sweep for all newscasts. Dennis Milligan, WBTV's Director of News and Content has been working towards this goal for the past 15 years.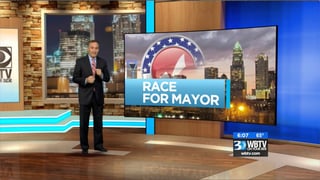 Part of the strategy over the last 18 months included a half-million dollar investment in a new news set. But this was no ordinary news set upgrade.
"The first priority two years ago was to secure the best, most robust hard set that we could get. We wanted to push the visual nature of TV in the market to new levels," said Milligan. During the eight year lifespan of the previous set, WBTV's competitors had introduced their own new sets, "making us look a little old, so a cutting edge hard set was the goal," explained Milligan.
But during this process, parent company Raycom Media had heard about and wanted to experiment with sets in the virtual environment, also known as soft sets.
So experiment they did.
Intrigued? Read the full ChyronHego/Hybrid TV Case Study, WBTV Gets Real and Goes Virtual.