In our last post, we unveiled the CAMIO Universe — a complete, end-to-end, producer-driven workflow focused entirely on content creation and playout. The CAMIO Universe brings together integrated and easy-to-use software tools that everyone in the news department can use to create content and deliver it to air.
Running on standard hardware and supported by your existing IT infrastructure, the CAMIO Universe drastically shortens the time from a story's concept to its broadcast. Content management, distribution, and MOS interfaces with newsroom computer systems are delivered by the all-new CAMIO Universe asset management server to enable sharing of both ground- and cloud-based content, unleashing unprecedented collaboration between users.
All functions are assembled together in a unified system that everyone can access instantly from their desktops, with pre-defined templates for efficiency and speed. A simple and clear workflow connects the newsroom to the art department and the control room, freeing users to focus on writing the news and breaking it first.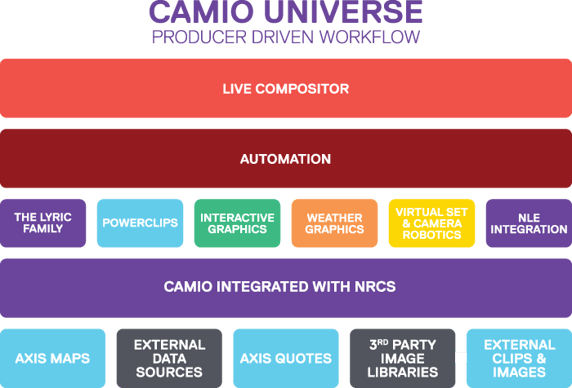 At the lowest level, the workflow provides links to cloud-based graphics assets such as still or animated maps and data-driven financial quotes. Users can populate graphics with data feeds for stories such as reporting election results, and they can also access third-party image libraries and externally rendered clips and assets. Next is the integrated server layer (in purple) for data and graphic asset management and connection with third-party electronic news production systems such as AP ENPS or Avid iNews. The server layer feeds a set of templated content production tools for news and weather graphics, NLEs, and generating virtual graphics.
---
Read more about The Camio Universe:
Blog Post: A New Era for ChyronHego Customers
Blog Post: Putting Producers in the drivers seat
---