As you might have gathered by now, ChyronHego is going through a major transformation. Over the past year, we've been laying the groundwork to evolve beyond our status as the world's leader in broadcast graphics software and hardware to something even bigger.
Through key acquisitions as well as internal development, ChyronHego is assembling all of the components for the CAMIO Universe — our vision of a next-generation, software-driven broadcast operation. The CAMIO Universe creates a comprehensive and integrated software ecosystem for producer-driven news production workflows, with producers and journalists involved directly in the process of creating and managing content.
The CAMIO Universe has emerged from the complex challenges facing today's media, production, and broadcasting operations. They're under enormous pressure to evolve their business models in the face of growing competition from pure-play online news services and OTT video. At the same time, viewers expect TV news stories to be accurate, up-to-the-minute, and told in new and compelling ways – and they're demanding more and more content on an ever-larger range of devices and platforms.
To stay successful, broadcast operations know they need to empower larger numbers of non-technical personnel to create and play out quality content — which means migrating away from proprietary hardware and towards all-IT, software-based production environments. History is repeating itself; a similar migration happened decades ago when print media moved to more efficient "desktop publishing" and computer-based operations. And more recently, the radio industry has set a powerful example with its transformation from an era of bulky and costly hardware to the cost-effective and easy-to-use software automation system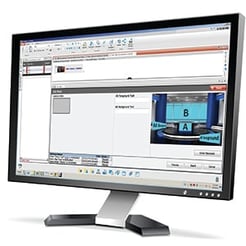 s that run most radio stations today.
Against this backdrop, the CAMIO Universe is a collection of integrated and easy-to-use software tools, running on standard hardware and the existing IT infrastructure that everyone in the news department – including sports and weather – can use to create content and deliver it for playback to air. Extensive software-based automation addresses every aspect of news production, whether it's setting up camera shots and controlling robotic cameras, providing software-based video switching, enhancing a story with sophisticated weather graphics, or generating graphics for a virtual studio.