---
TO BE A TRUE PIONEER, YOU MUST FIRST HAVE BLAZED THE TRAIL.
ChyronHego has long been known to push the boundries of innovation. The spirit of always asking, "What's next?" pre-dates the merger of both Chyron Corporation and Hego Group, yet the risk versus reward mentality that drives us forward applied equally.
As an old saying sort of goes, and as recent M&A events in our industry tell us, it is very easy in the broadcast technology business to become the next generation of buggy whip manufacturers.
That is perhaps the reason why today ChyronHego continues to develop, nurture and introduce entirely new, disruptive product categories that allow our customers to create more.
This was and continues to be true when it comes to Cloud-based Software as a Service, or SaaS. While the move to Cloud-based production by broadcasters and other media content producers may seem fashionable and the "must-have" for today's highly efficient workflows, it is worth remembering that ChyronHego was among the very first to plant their technological flag into the Broadcast Cloud. The launch of Axis World Graphics, the industry's first secure, hosted, on-demand graphics creation solution, occurred long before the more recent SaaS purveyors.
HERE ARE A FEW OF THE NUMBERS BEHIND CUSTOMER'S CONTINUING SUCCESS USING AXIS WORLD GRAPHICS:
2008. The year Chyron acquires Axis.
Back then, TV production had become increasingly distributed with remote users requiring access to pooled resources, often across group ownership boundaries. Broadcasters had very real fears about content protection, security, connectivity failures, and bandwidth costs. Chyron, always a top-hand at trend-spotting, made an informed decision to meet changing market demands and debuted the world's only secure, online content creation solution specifically designed for broadcasters.
2500. The number of days since 2008 that Axis has been in operation.
...and counting. While other Cloud-based production tool providers tout their "uptime" credentials over the last year, ChyronHego's Axis World Graphics moved well beyond the proof-of-concept stage - to a proven-concept - more than seven years ago.
Today, Axis World Graphics' expanded portfolio of modules include News, Maps, Order, Track, Charts, and Quotes.
10,000. The number of Axis users worldwide.
...and counting. Chyron's first large enterprise Axis customer was a television station group with more than 20 stations. Today, with station group consolidation being the new normal, a roll-out to a hosted model can be deployed or expanded quickly across a station group many times the size of those first 20 stations.
And, with Axis' Statistical Reporting, you can analyze how Axis World Graphics is being used within your organization, such as analyzing daily usage trends or determining the number of times a graphic is shared amongst your stations.
700,000. The number of map stills and map animations created.
...and counting. Using a map as a reference point in a news story has long been a good practice employed by thoughtful news producers. With the release of the Axis Maps module, producers have advanced the art of cartography as a storytelling tool expotentially. The fact of the matter is, Axis Maps makes animating a nearly infinite number of maps both quick and easy. Don't believe me? Watch the video!
2,500,000. The number of news graphics created.
...and counting. At its core, Axis World Graphics is all about your ease of use. Graphics creation that once took hours now takes minutes. Everyone from reporters to editors to news producers are able to quickly use Axis templates to create graphics for broadcast, websites, and mobile.
---

CONCLUSION:
So, once again we ask, "...What's next?"
ChyronHego product managers are promising an expanded Axis integration with the larger BlueNet workflow and with CAMIO - which very soon will also see a dramatic expansion in its own capability.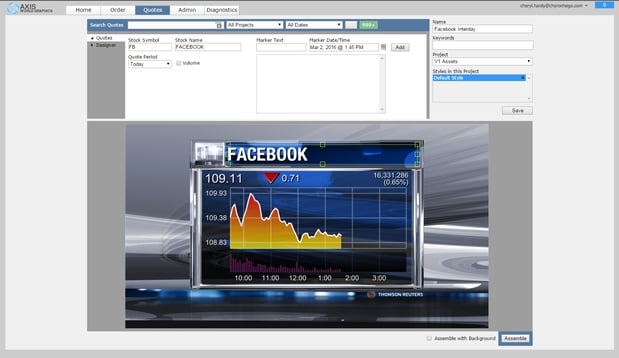 Also, new "looks" will be released for the Maps and Quotes graphics modules (above), and users will experience improved (i.e. speedier) performance.
---