To be a true pioneer, you must have first blazed the trail.
Precious few broadcast technology companies can lay claim to 50 years of innovation. Yet, that is exactly what ChyronHego is celebrating in 2016.
Tracing their roots back to 1966, innovations such as character generation and electronic paint firmly established Chyron as one of the most progressive companies in digital imagery. Originally incorporated as Systems Resource Corporation, a spin-off from computer company Digitronics, the company entered the electronic text field with a product for airport flight schedule displays in early 1970, as in "arrivals and departures". Think about that the next time you're running to catch your flight!
Chyron's first character generator was the Chiron I, named after the Centaur of Greek Mythology symbolizing the link between the wisdom of the body and newer forms of human consciousness. From these lofty beginnings, several systems found their way into television stations, as it featured the ability to record and retrieve lower thirds and full-page text displays for news departments as an alternative to art cards, slides or scrolling black felt.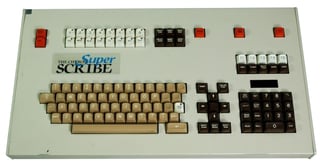 Through many iterative innovations, including the Chyron IV in 1977 (later upgraded to the Chyron 4100 and, I state proudly, the first Chyron character generator that I laid my hand to as a young production tech at WJAR in Providence, Rhode Island), the Scribe in 1984, the iNFiNiT! in 1989, and followed by the MAXINE! in the early 1990's.
The enormous experience in broadcast graphics, editing, paint, animation and digital effects, along with early developments of computer-aided graphics, led to both the Duet and Lyric, which debuted at NAB in 1998.
ChyronHego's advanced character generator application, Lyric PRO, followed a few years later producing static and animated graphics for real-time playback to air. Lyric PRO's ability to integrate real-time data into graphics workflows brought an entirely new dimension to news and sports graphics.
Which brings us to today and LyricX.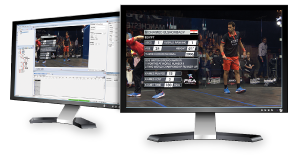 LyricX, the latest version of ChyronHego's long time graphics offering, was introduced at this year's NAB in Las Vegas. LyricX marks a significant milestone in our goal to improve the user experience for Lyric designers and operators while surpassing Lyric's well-earned reputation for high performance and reliability. LyricX achieves this goal, yet retains all of the most popular Lyric features designers and operators have come to know, love and rely on.
LyricX's 64-bit architecture is designed for 4K workflows, and ChyronHego has taken great pains to leverage these advantages with the result being vast improvements in application speed and performance.
LyricX is graphics for the 4K generation!
ChyronHego played a big part in the invention of the character generator. That's a significant statement backed by a significant history of leadership and innovation. And our significant investment in LyricX is proof-positive that ChyronHego – ever the true pioneer – continues to push the boundaries of broadcast graphics today and tomorrow.
Scrolling black felt notwithstanding!