---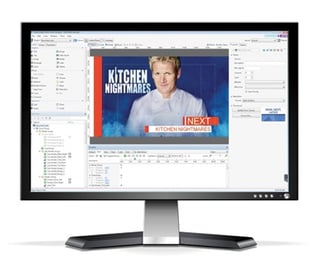 The PRIME Ecosystem is ChyronHego's new universal graphics platform. The PRIME Ecosystem is based on the latest version of our powerful render engine, with support for graphics, branding, and a dedicated clip player.
The PRIME Ecosystem is software-based and not dependent upon hardware. Former hardware-dependent features such as DVE, clips, audio mixing etc., are now all driven by software, making the PRIME Ecosystem an extraordinarily flexible solution.
HERE ARE 5 REASONS WHY YOU SHOULD ADD OR UPGRADE TO THE PRIME ECOSYSTEM:
1. THE PRIME ECOSYSTEM IS INNOVATIVE
PRIME provides an easy-to-use drag-and-drop user Interface with an event-driven architecture that supports Expressions and Conditions. CAMIO integration is part of the PRIME 2.0 release. The connection between PRIME and the newsroom cannot be overstated. For example, a newsroom user can now perform operations such as selecting a PRIME scene to add to a story and then simply type text and drag graphics into a data field to be output to a ticker.
2. THE PRIME ECOSYSTEM PROVIDES FEATURES AND BENEFITS THAT OTHERS CAN'T
With the PRIME Ecosystem, you get a multichannel graphics platform, a clip playout package, complete automation, multiple scripting engines, unique Warp Effects, support for 4K, and more. In addition, PRIME's Clip Package allows for the simultaneous playing of PowerClips from the same system from which it plays branding.
The PRIME Ecosystem is indeed greater than the sum of its parts, giving you that much more for a greater return on your investment.
3. THE PRIME ECOSYSTEM IMPROVES WORKFLOW, SAVES MONEY, RESOURCES AND TIME
The PRIME Ecosystem is package-based. The first sets of packages to be made available are the Branding Package and the Clip Package.
Offering both a Branding Package and a Clip Package that can play simultaneously from a single system that previously required multiple systems is proof-positive that ChyronHego provides you with a much lower total cost of ownership.
The ability to get more today for less than you spent yesterday is the cornerstone of our philosophy to offer you software-driven solutions.
4. DESIGN AND DATA CONNECTIONS ARE EASIER WITHIN THE PRIME ECOSYSTEM
PRIME's new Designer User Interface provides drag-and-drop design for quick and easy scene construction. PRIME features an all-new browser and a scene designer with an enhanced timeline. PRIME's Advanced Data Object provides drag-and-drop, filtered data-binding to scene elements, and ChyronHego's NewsTicker can provide back-end data streams to PRIME.
5. IF CHANNEL BOX IS ALREADY A PART OF YOUR FACILITY, THEN UPGRADING TO THE PRIME ECOSYSTEM ADDS NEW, POWERFUL BENEFITS THAT ARE SIMPLY TOO HARD TO IGNORE
PRIME provides Preview, PowerClips playout, Warp Effects and an incredibly innovative User Interface. PRIME will also be integrated with CAMIO, ChyronHego's MOS-based and NRCS-connected graphics asset management solution, providing users a significant extension to your newsroom's capability.
And, ChyronHego's Creative Services team is ready to work with you and your team to migrate your existing scenes and clips to PRIME.
The PRIME Ecosystem gives you more functionality, more flexibility, and more features at a lower total cost of ownership.
Want to learn more about the PRIME Ecosystem's lower Total Cost of Ownership? Click the image below and read our TCO Fact Sheet.
---