The legacy of maintaining high staffing levels for operator-controlled tickers and reliance on pre-produced graphics is in the past for broadcasters.
Today, your streamlined team pre-produces automation-based ticker e
lements, controlling multi
ple channels.
But, there are still challenges. Three of these troubles are discussed below:
1. Meet the demands of delivering branding content immediately to air - with reduced staff.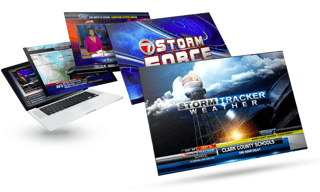 You rely on heavy automation and less on operator intervention. Branding and ticker products must be enterprise-level, 24/7 workhorses and intuitive to allow for easy updates. Audio insertion, dual DVEs, and live compositing was traditionally done in Production Control; now, you need that added functionality in Master Control.
HOW WE CAN HELP: Addressing all of those needs mentioned above, our ChyronHego solution uses a role-based approach with producers using a web interface to manage data and operators using a control panel and automation to air.
2. Real-time data adds sophisticated presentation requirements.
You're looking for a data-driven solution. Product solutions must utilize a rich set of rules-driven automation to control the display and time-sensitive content like election results and school closings must be real-time (with zero cache). And, multiple key layers need to be separately addressable, composited together, content-aware, and driven by the station's customized business rules.
HOW WE CAN HELP: ChyronHego uses our own, fully-integrated components - from data acquisition, to automation, to playout - including the most powerful, rules-based graphical renderer on the market.
3. Station groups need a consistent branding framework while allowing local stations to make key decisions.
You need to easily distribute assets from your graphics hub to spoke outlets. A channel branding solution must support a centralized design model with multiple run-time options that are easily selectable by your operator. You need to implement flexible and locally-determined sponsorship rotations within your branding.
HOW WE CAN HELP: The ChyronHego NewsTicker solutions allow producers to use a web-based interface to select sponsor cycles and options exposed by designers. ChyronHego offers an array of custom Creative Services using assets synced through HubDrive. This gives you all of the efficiencies of a central design model without the limitations.
Managing content shouldn't introduce more problems than it solves. Our NewsTicker products are intuitive for producers, writers, and talent to use.
From the beginning, we have concentrated on making ticker displays effortless for producers, high quality for engineers and your viewers, and attractive to advertisers.
For more information, read our white paper, Creating New Revenue Streams: Channel Branding, Newstickers, & Sponsorships. Download below:
See a preview of the upcoming NewsTicker 5 at our NAB booth #SL1208 - to schedule a meeting with us at the show, CLICK HERE.
Use code LV7768 for a FREE PASS TO NAB 2018 in Las Vegas!