ChyronHego's PRIME Graphics Platform is by far the most advanced solution in the channel branding, clip playout and graphics space. With the ability to output graphics and clips through a single system that formerly required multiple solutions, users gain more functionality and features at a lower cost. At the core is the PRIME Video Engine, ChyronHego's newest rendering engine, ready for the demands of today's and tomorrow's broadcasters.
We've got some good news for you - with the just released version 2.5, PRIME is more powerful than ever! Let's take a look at some of the great, new features with this upgrade and the possibilities they bring to our current and future customers.

NEW DESIGN TOOLS
The 2.5 version of the PRIME Graphics Platform is equipped with exciting, new design tools such as Shaders and Custom Canvas Resolutions for display matrices.

TOUCH GRAPHICS
A new touch graphics module enables presenters to choreograph scene playout as they wish, whenever they wish – making PRIME a powerful tool for audience engagement!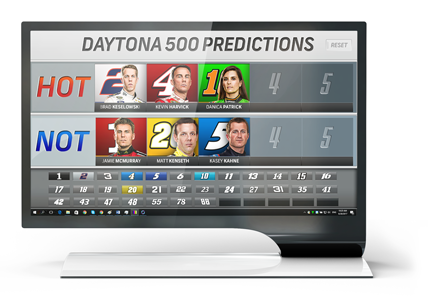 VISUALIZATION OF TRACAB DATA
The integration with TRACAB, ChyronHego's optical tracking solution, makes it easy to visualize the TRACAB data within the PRIME Graphics Platform.
In addition, PRIME is now fully integrated with Click Effects. ChyronHego's Click Effects PRIME offering unites the advanced authoring, rendering, and data binding power of the PRIME Graphics Platform with the industry-leading arena graphics generation and custom digital display control of the Click Effects CrossFire and Blaze solutions.