MOS got an Emmy®! It is not often that a 'protocol' gets this kind of attention, but the National Academy of Television Arts and Sciences has given the 2016 Technical/Engineering Achievement award to the MOS Group for the "Development and Standardization of Media Object Server (MOS) Protocol."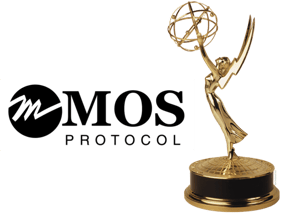 As we all know, the MOS standard has made significant changes in the way news production works through a smooth workflow and standardized interfaces supported by many companies. ChyronHego is proud to have been an active participant in this effort over the last 15 years. Our CAMIO graphics asset management system has been streamlining news production all over the world at close to 500 sites. And it is getting better and better every year.
To celebrate the Emmy award and CAMIO's 15th birthday, ChyronHego has released CAMIO 4.2 and the CAMIO Universe. These products bring our powerful workflow tools to the evolving needs of the newsroom of tomorrow.
CAMIO 4.2 extends the ease of template based graphics creation to the full line of ChyronHego products. It supports our two new graphics engines, LyricX and the Prime Ecosystem. It also supports Hybrid virtual sets, Metacast weather graphics and MultiTouch touchscreens. We also integrated NewsTicker election data and the SHOUT social media editor through the ENGAGE interface.
The newsroom of the future will be networked and distributed through IP infrastructures on the ground and in the cloud, and on a variety of mobile platforms. CAMIO 4.2 is more secure and network friendly than ever before. CAMIO 4.2 sits in the center of a family of products that can be virtualized for high reliability, easy backup and lower total cost of ownership. Extensive use of open standards and web services make it easy to scale and integrate CAMIO with third party products.
Speaking of cloud services, don't forget ChyronHego's pioneering Axis web services for creating news images, stock quotes and maps, and an integrated order management system. CAMIO 4.2 has improved integration with Axis for easier and faster graphics creation and management.
The goal of the CAMIO Universe is to make all aspects of news production as simple as making a lower third.
News. More important than ever.