With broadcasters continually looking to add extra value to their content and enhance viewer engagement and experiences, vendors are always looking to provide technology that not only offers value for money but also facilitates rich and captivating to-air footage. With a huge global outreach, football (soccer) is broadcast to the homes of billions around the globe.
The choice for broadcasters can be seen as two fold with respect to their football coverage. First, how can the feed be monetised in order to maximise revenue? And secondly, how can greater insight into the game, during the game, be achieved in order to gain and retain viewership numbers?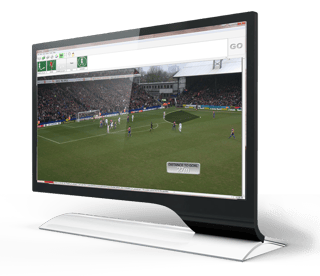 So, how can these be achieved by using ChyronHego's Virtual Football? Let's dig into what Virtual Football is, to get an understanding of how it can be useful. Based on ChyronHego's Virtual Placement technology, Virtual Football is a completely uninstrumented tracking system. That is, the system uses image analysis in order to track the lines on the field. No convoluted head and lens calibration is required, the operator simply communicates with the cameraman in order to get reference shots of the field to calibrate 3 cameras in under an hour.
Once the system is set up, it has full understanding of Pan, Tilt and Zoom of the 3 calibrated cameras. Then, by utilising the inbuilt 2-colour chromakeyer, Virtual Football allows you to add advertising graphics to the field, below the players, with a couple of button clicks. In addition to this, the system can utilise and visualise player tracking data such as ChyronHego's TRACAB data, by projecting the incoming x,y data stream into the calibrated system it is possible to show metrics such as player speed, distance between players, area around players and many more.
The question then is, how can Virtual Football address the needs of the broadcast industry, as initially mentioned above? Firstly, we have return of investment. ROI is a consistently pertinent issue for clients, who are looking to save money on operational costs whilst maximising output revenue streams. Virtual Football is a single operator system, with no clunky calibration setup that other systems suffer from. At a base level, this brings the total cost of ownership down significantly and the ease of use of the system adds to this further.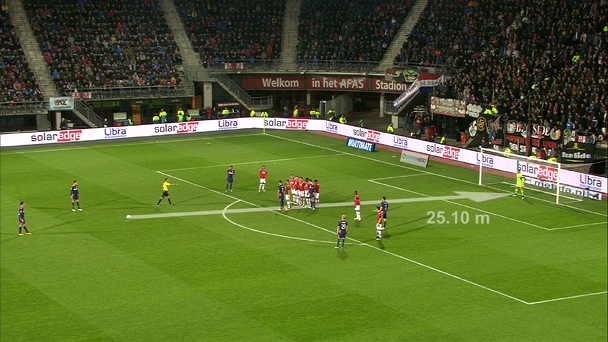 In addition to this, where broadcasters are able to add virtual advertising on or at the side of the field (see above image showing on-field virtual advertising, left of the goal), they can monetise the feed by generating revenue from sponsorship graphics. With a system configured to have one input but 5 separate outputs with dedicated graphics on each, the monetary value of a single feed increases five fold, if a broadcaster were to send a dedicated feed to 5 different areas of the globe, they could do so with geo-specific graphics on each. By being able to generate so much revenue from one system, Virtual Football pays for itself, until the point where it then starts to make money for you.
The next part of the puzzle is viewer engagement. How can broadcasters make the match more visually engaging, whilst offering a greater insight and explanatory information to the match on the field? By utilising player tracking data such as ChyronHego's TRACAB optical tracking system or even wearable data, Virtual Football allows broadcasters to visualise metrics such as distances between players, areas of space relative to players, top speeds, accelerometers and many more to illustrate to the viewer at home exactly what is happening in the game.
Virtual Football is a content enhancing, revenue generating, easy to use system. To find out more, take a look at the Virtual Football product webpage or speak to one of our sales reps today.