WHY GRAPHICS MATTER IN COACHING
For coaches and analysts, the use of video has for years been paramount to them gaining an understanding of their team and players performance. The ability to review and tag video to understand the machinations of their given sports is largely seen as the best way to gaining greater tactical insights about one's own team, opposition and potential recruits.
By going through training and game footage with a fine toothed comb, coaches and analysts can understand whether the messages they are conveying to their players are being understood and to exploit the weaknesses of their opponents in order to gain victory. After all, nobody turns up to lose.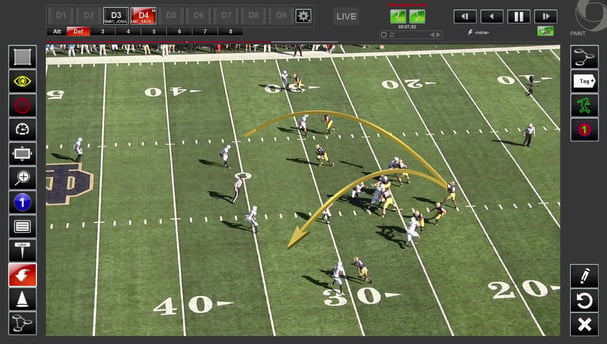 FROM TELEVISED HIGHLIGHTS TO PLAYER ENGAGEMENT
Similarly, in the broadcast world, pundits have been using video with telestrated graphics for years to be able to convey their opines on their specialist sports. From Jon Gruden analysing NFL teams on ESPN's Monday Night Football, to Gary Neville and Jamie Carragher on Sky's EPL show of the same name, the trend in broadcast has been to draw on video in order for the audience at home to better understand the finer workings of the sports they are watching. At ChyronHego, it's something we happen to have a lot of experience with, and this trend in the world of broadcast is now finding it's way into the world of sports coaching.
There are a number of reasons around why this uptake has increased in the last few years. Firstly, with the evolution of technology, software that previously required a very specific hardware setup are now able to run on different operating systems and utilise the built-in components of an off the shelf laptop. Further to this, teams look towards the success that broadcasters have had engaging their own audiences and wish to replicate it. Players are now so used to being shown footage with telestration that it can often be the best way for a coach to keep their player's attention in order to effectively convey strategy and tactics.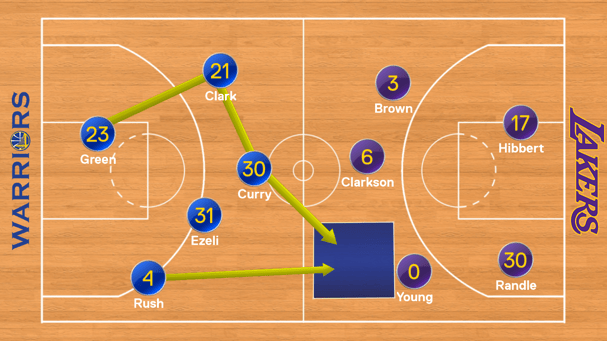 Additionally, with the globalised nature of many sports, the makeup of a squad could feasibly include 5 or 6 different languages. When a coach and a player are communicating in what could well be a shared second language, the power of telestrated video could well be the factor that gets the ideas from the training ground into performance on the field. Yet another reason is that with the natural evolution and expansion of analysis, adding in new technologies to get an edge over the competition is commonplace, and pointing at a projector with a laser pen doesn't quite cut it anymore.
BROADCAST ANALYSIS VS COACHING ANALYSIS
What is important to remember, however, is to appreciate the roles that broadcast and coaching analysis play. Whilst they have similarities, they are also different and have their own nuances. Broadcast analysis offers the television viewer a better understanding of how a player is performing, why and where (in the opinion of the pundit) the teams and players could have performed better. Coaching analysis, on the other hand, has a more immediate captive audience; the team who are sent out on the field to win, with instructions as to how to do so. On a technical level, for instance, teams capture and share video yet few team video analysts know what an EVS or a MAM is, as they aren't relevant to their business (yet).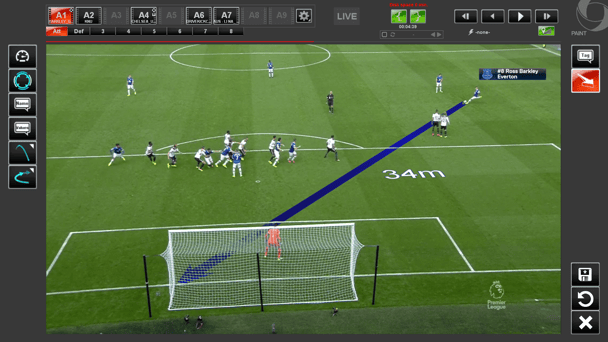 What is key to ChyronHego's approach is to continue to innovate whilst being flexible and understanding the needs of the market. Ease of use, fitting in with the client's workflow, and understanding how we can positively impact the total cost of ownership, are the principles by which we shape our sports products, so that new users can pick up a solution such as Coach Paint and run very quickly.
Our aim, with as little fuss as possible, is to give the coaching world the ability to illustrate and elucidate the key messages from their video footage to their players. Making graphics useful for coaching is how to make them matter!