Chances are you've probably seen it, but didn't know what it was. The sharp graphics and fancy telestration on the last game or highlight show you watched. Circles, spotlights, vision cones, the stuff the analysts use to explain the game. The stuff that makes it look easy. As a former coach, I always wished that I had something like that for my players. Now I do. Coach Paint.
I guess it dates me a little when I say this, but I remember as a kid watching John Madden's famous yellow line on my family's TV set, wondering how it all worked. It caught my attention then, and now that telestration has progressed to a completely new level it grabs everyone's attention, including your player's.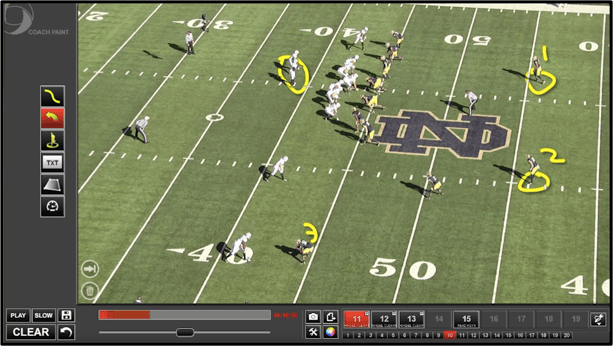 I used to spend hours drawing up scout sheets and adding graphics to video used in our team meetings. I did it because I didn't want to give my players just another dry packet of drawings, knowing that's not the way any of them actually learned. By contrast, you can use Coach Paint to give your players a better way to visualize the team's and their individual performances in a manner that no other coaching tool can accomplish.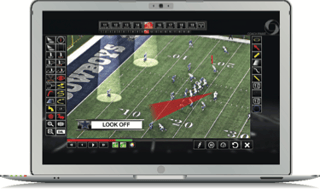 You can cut players out and move them around the field to indicate where they should, or should not, be during a given play. You can highlight areas of the field or court that will stay highlighted even when the video rolls on. You can quickly show players exactly how much space there is between them and their opponent. You can label players, plays or clips in a variety of eye-catching ways. You can literally shine a spotlight, complete with your team's logo, underneath a player's feet, just like they do in the highlight shows.
None of this takes much time at all, to either learn or do. It's much less time than I or you ever spent making up drawings and notes, and it's material that is both engaging and memorable. Coach Paint runs on a PC or a Mac, and you or your other coaching staff can even use it as a touchscreen presentation tool. It doesn't matter what sport you're coaching, Coach Paint does it all. Your players will recognize it and respond to it, because it's a medium with which they're already most comfortable interacting.
Coach Paint is now available for you to try, completely free, for 30-days. Click the image below and find out first-hand why Coach Paint is the virtual video playbook that will help your players absorb the critical nuances of the game like never before.