LUCI5, ChyronHego's all-new concept-to-air news graphics workflow that features a Web-friendly HTML5 CAMIO interface, is at the vanguard of the ChyronHego mission to bring advanced technology to the newsroom wrapped in a fast and easy user experience.
Here are three reasons why LUCI5 is the best tool for your newsroom...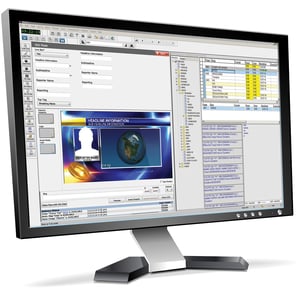 1. LUCI5 puts the Producer First
Producers are busy, and they don't want to have to struggle to find what they need in the tools they need every day. LUCI5 has an easy to understand user interface that minimizes the learning curve and puts content at their fingertips. Items can be repurposed between teams and stories can be built on over the course of the day as they develop, allowing for more researched, nuanced analysis in less time.
In the Compose tool, users can layer multiple images into a single image without leaving the newsroom plugin. Choose from local content,
Axis
Track content, or upload from a local or network drive. Will an iPhone photo taken in portrait mode tell the story you need to tell? The Compose tool allows you to crop and rotate images to get exclusive content to air. Compose puts simple content-editing tools in the hands of the producer, allowing the art department to focus on the brand-shaping advanced content.
2. LUCI gives the Art Department Tools to Guide Producers
LUCI5 has been specifically crafted to help art departments guide producers through making informed and correct decisions to preserve the brand and speed up content creation.
Asset Categories are created by the art department to speak the language of the newsroom and help users to filter results - categories can even be restricted for fulfillment so only a "Headshot" image can fulfill a headshot field, for instance.
The fulfillment screen of a template will be able to be designed by the art department, either in our LUCI Panel tool or in straight HTML in Dreamweaver or an equivalent program, to customize the template fulfillment process exactly as the art department desires. In other words, power users in the art department will be able to create custom UI panels to further refine the producer's experience for MOS object fulfillment.
3. HTML5 Means LUCI Goes Everywhere
The web has embraced HTML5 as a flexible, stable framework on which to build. HTML5 can be run in HTML5 compliant browsers and on PC, Mac, or portable device. By implementing the HTML5 spec endorsed by the MOS Protocol committee, we are committed to making LUCI more modular, usable, and easy to maintain. Install the LUCI website once on the client devices in the newsroom, and every update after that is automatically available to all users, enabling IT departments to simply be able to provide the newest technology and feature sets without interrupting the newsroom productivity.
LUCI5 is our exciting first step toward opening up a world of functionality and content to the producer. We want to help the art department give producers the tools to build great content so they can focus on the brand-enhancing material that will make their station shine. And using the accessible technology of HTML5, all this can be achieved in more places than ever before.
Want to take a deeper dive into LUCI5? Join me at our upcoming webinar by clicking below.