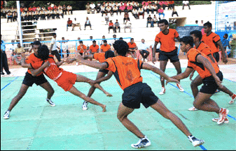 According to Wikipedia, Kabaddi is a contact team sport that originated in the Indian subcontinent in Tamil Nadu. It is popular in South Asia and is the state game of several Indian states and it is also the national sport of Bangladesh.
Besides the fact that both Football (depending on your part of the world I'll leave it to you, the reader, to pick "your" football) and Kabaddi are contact sports where two opposing teams face-off against each other, they really don't have that much in common at all. However, when taken from the perspective of the businesses operating behind each sport, both have the need to make money beyond the usual sources.
As both sports are televised nationally and internationally to their respective target audiences, both sports are constantly on the lookout for new and innovative ways to engage their viewers or, wherever possible, increase their revenue streams. If they can accomplish both at the same time, then so much the better, and ChyronHego has just the solution.
Virtual Placement 7.0 debuts at NAB 2017 (Booth SL1210). To celebrate, we've given Virtual Placement an all-new platform, ChyronHego's most powerful Render Engine. Now, Virtual Placement easily handles 3-D graphics, giving you and your clients more creative freedom.
The aim throughout is simple: to place virtual elements, such as advertising, into a live scene to make them look physically real and in harmony with the environment they are projected into.
Broadcasting to multiple regions? Virtual Placement now has the ability to output multiple video streams from the same source, allowing you to insert different sponsor ads to serve different regions.
From Football to Kabaddi, if you're looking for a new revenue stream to support your sports broadcast or in-venue production, then Virtual Placement is your advertising placement solution.
Take a few minutes and learn why more sports producers are turning to ChyronHego sports technology solutions. Click the image below to read our new White Paper, Scene Tracking & Virtual Placement: Increasing Viewer Engagement & Revenue Streams.