CAMIO is THE productivity tool for the newsroom. It allows stations to invest in storytelling by making the generation of rundown content quick and simple. It is a cost-effective solution with content management, distribution, and MOS interface in a single box; and efficiently serves the entire production staff, from the art department, to the producer, to the editor, to the control room.
We have listened to our customers, and we know that speed to air is paramount, which is why we are proud to say that we have the fastest concept-to-air in the industry. As we joke in the office - we "fix" breaking news!....(Give us a break, it was before our morning coffee.)
We are thrilled to present the next generation of CAMIO, which opens up possibilities for our current and future customers. We call it CAMIO 4.2.2.
CAMIO 4.2.2 has an explosion of new capabilities, features, and enhancements to our workflow for our users to get excited about.
LUCI5 Support - Our brand new HTML5 Newsroom producer tool that makes creating content for shows easier, clearer, and faster than ever before. LUCI5's user-friendly interface makes graphics, clip, and automation cue creation fast, reusable, and clear, with an assortment of content creation tools at a producer's fingertips. And given that LUCI5 is HTML5, engineering staffs install the client once at a producer station and never again - all further upgrades will update on all client devices without having to install again.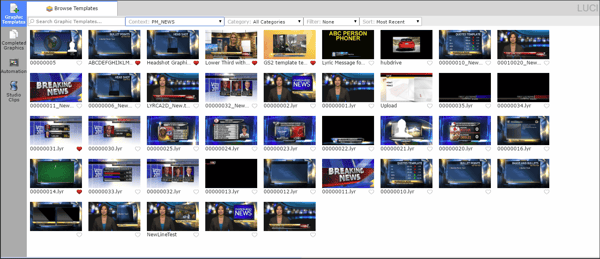 HubDrive - An exciting addition to the ChyronHego family, HubDrive is a Dropbox-like folder synchronization system empowering art departments to distribute content to all devices across a facility or hub and spoke configuration automatically through a lightweight and blazing fast client/server architecture. Fonts are automatically installed, files are placed and maintained, and CAMIO integration means that your content is exactly where it needs to be, when it needs to be there.
LyricX Display Matrix and PRIME Graphics join the CAMIO Universe - Joining the ranks of ChyronHego templated content creation devices are LyricX and Prime. LyricX 2.1 and later is supported (with iSQ 3.2.0.7+ and with MOS XML 4.1.0.1.) For customers with Mediamaker, LyricX 2.2 adds Mediamaker and Display Matrix Video Wall support through LUCI. PRIME Graphics can be configured as a graphic or clip system per channel to fulfill your channel branding needs.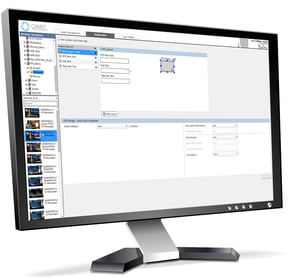 New Asset Manager Features - Asset Manager, the workhorse of the Art Department, has been enhanced with a panoply of new features for art departments to guide users to making good template decisions in LUCI5, as well as a variety of ways to customize what a producer sees and for LUCI fulfillment.
The new Replaceables tab brings the CAMIO property-setting tools of the MOS XML plugin to CAMIO Universe renderers to a single screen. Users can set up Axis mappings, LUCI Autofill properties, as well as any other CAMIO properties for templates in Asset Manager. Art departments can also customize the view of a template's fulfillment inside LUCI either by using our WYSIWYG LUCI Panel tool or by uploading a custom HTML panel in which all the capabilities of the HTML5 canvas can be harnessed for producer template fulfillment.
With the new features of CAMIO 4.2.2, CAMIO is cementing its reputation as a superior tool for producers, art departments, and engineering staffs. Every day, over 20,000 users rely on the CAMIO workflow to create and deliver their newscasts.
Contact ChyronHego Sales to join them in creating the fastest, easiest, and best news on air.