It's time to get virtual! Join us on January 26 for a webinar on bringing Virtual and Augmented Graphics into the CAMIO Universe - a next-generation newsroom workflow for live end-to-end video content creation.
The CAMIO Universe gives you a unified, software-based environment and extensive automation to address every aspect of news production. Whether it's setting up camera shots and controlling robotic cameras, providing software-based video switching, enhancing a story with sophisticated weather graphics, or generating replaceable graphics for a virtual studio.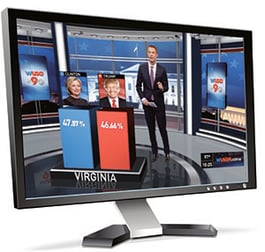 In just seconds, producers can bring up a template and generate compelling virtual elements simply by updating text, images, and clips, just as with traditional news graphics. That means they can respond to news as it's breaking with a rich array of compelling virtual graphics that draw viewers in and illustrate key points in a highly intuitive manner.
In our webinar, you will learn how our solution allows you to create more with the same studio space, helps you tell a better news story and last but not least, let's you capture and retain the attention of the millennials.
Sound interesting? Click on the button below to register for our webinar now.