In a time of UHD and mixed resolutions, SDI and IP operating side by side, and an industry in transformation demanding the most efficient workflows, ease of use, and return on investment, ChyronHego developed the PRIME Ecosystem, a universal graphics platform - now updated with PRIME 2.0 - a powerful, 64-bit, all software rendering engine.
PRIME 2.0 is a resolution-agnostic solution that leverages GPU and CPU technologies for maximum power in rendering graphics and effects. With the ability to output graphics and clips through a single system that formerly required multiple solutions, users gain more functionality and features at a lower cost.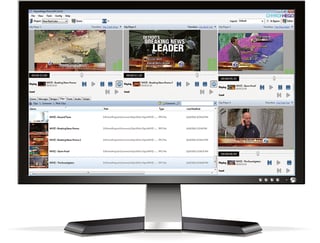 Among other features, PRIME 2.0 introduces Clips PRIME, a highly flexible broadcast clip player with the ability to support up to six independent channels of video from a single server. With Clips PRIME, PRIME is introduced as a fundamental element in the CAMIO Universe, a comprehensive software-based ecosystem that empowers producers and journalists to create compelling broadcasts and deliver them rapidly to air.
The full integration with CAMIO, ChyronHego's MOS-based and NCRS-connected graphics asset management solution, gives broadcasters the ability to extend their newsroom facilities significantly. For example, a newsroom user will now be able to perform operations such as selecting a PRIME clip or scene to add to a story, and to type content/drag graphics into a data field to be output to a ticker.
ChyronHego's PRIME is already delivering unequalled power and a stunning return on investment to facilities worldwide. The future-proof foundation of PRIME 2.0 now gives you supercharged rendering power and unprecedented clips management – preparing you for the broadcast demands of today and tomorrow.
Intrigued? Download our White Paper to learn more about the PRIME Ecosystem.