The best. We all like to associate ourselves with the best. We want to work with the best. We must have the best. We must be the best. It's true in our personal lives and it's also true in our professional lives.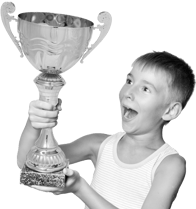 Nobody, if they're being truly honest, actually prefers to be second best, or even to be seen as associating themselves with second best.
Second best stinks!
ChyronHego is the best. Of course, I am somewhat biased. Yet, after nearly seven years association, first with Chyron and now with ChyronHego, I feel I'm on firm ground making such a definitive, declarative statement. First and foremost, ChyronHego has the best people. People who put everything into designing, engineering, selling, and supporting our customers (also the best!) with the best live production solutions.
A big part of what makes our solutions the best comes down to the fact that we build our solutions with the best components from some of the biggest, and best, in the technology industry. Companies like Intel, Microsoft, Dell-EMC, and Cisco, to name a few, who in turn also want to be associated with the best, such as ChyronHego. Here's a brief look into how ChyronHego brings you the best live production and sports technology solutions with a little help from a few of our biggest and best technology partners.

Intel has long been a key ingredient "inside" ChyronHego graphic solutions. Intel processors can be found in nearly every character generator we've shipped dating back to at least the early 1990s. We use Intel because of their high performance and steadfast reliability. You'll also find Intel inside our Click Effects product line, including our latest Click Effects PRIME solution for stadiums and in-venue production.
Our association with Intel has grown over the years to the point where they've recently nominated ChyronHego and our Click Effects PRIME solution to represent the Media & Entertainment segment on the Intel Booth at DSE 2018. This is a huge honor for ChyronHego. If you're in Las Vegas March 28th through the 29th and attending DSE, please make it a point to visit the Intel Booth #1111.

Microsoft is a fairly new partner to ChyronHego's Emmy® Award winning Sports Technology solutions, specifically our TRACAB optical player tracking product line. Microsoft chose TRACAB to be one of the anchor technologies in their Sports Performance Platform. The Sports Performance Platform is a cloud-based sports-analytics platform that provides professional sports teams, leagues, and organizations with a solution to help both athletes and teams make better, faster, and more data-driven decisions. We're talking true predictive analytics for visualizing and interrogating sports tracking data in powerful and meaningful ways, and ChyronHego is one of the driving forces behind this revolutionary approach.

Dell-EMC is another long-time best partner, and they're also integrated with ChyronHego's Player Tracking solution. TRACAB is installed in over 300 stadiums across 10 countries, supporting customers ranging from the English Premier League to Major League Baseball.
TRACAB's capture-process-deliver-process runs in real-time. That means receiving 6x HD-SDI streams (5 Gbps), performing image processing analysis, running the tracking algorithms to identify and capture the positions for, in this example soccer, the 22 players, ball and 3 referees. And it must, without fail, deliver the data within one 25th of a second. To be able to design, engineer, and support a solution as out-on-the-edge as TRACAB, you better be associated with the best technology partner. Dell-EMC fits that to a tee.

Cisco, last but certainly not the least of the best, is also one of ChyronHego's best partners. It doesn't come as a surprise that Cisco continues to rule the networking enterprise space. They've evolved from a provider of common routers and switches to become the preeminent supplier of highly innovative networking solutions.
ChyronHego teamed up with Cisco on our recent introduction of the VPX solution. VPX is a virtual server platform for hosting end-to-end live production workflows.
By enabling broadcast operations to run critical content creation and playout software in a virtualized, IT-based environment, VPX is powering highly efficient, cost-effective, and easy-to-manage production operations for news, sports, and other programs
A key component of running live production workflows in a virtualized server environment is the ability to share and distribute video over IP. Cisco provides a highly scalable and secure networking environment that ChyronHego can build upon and our customers can rely on.
So there you have it. To be the best you must work hard every day to deliver the best solutions. Our customers demand it and our partners, highlighted here, help ChyronHego achieve this lofty objective.
At ChyronHego we have but one goal: To be the best we can be, so we can bring you the very best in live production and sports technology solutions.