Sports arenas are transforming more and more into multi-use media centers. Today's ticket holders for a sports event expect to be entertained and informed through a state-of-the-art facility.
ChyronHego's Live Arena helps you control your media from a single user interface. Whether you want to display team information, live Internet feeds, social media tickers, video playout or display advertisements on the stadium scoreboard, big screen or internal television network, Live Arena makes it easy.

Innovative and Easy-to-use Solution with Unlimited Possibilities
The Live Arena workflow consists of ChyronHego's Live Compositor and an automation layer offering an easy-to-use push-button interface running on a touchscreen. The Live Arena workflow supports your entire production with built-in video and audio switching, multiple channels of graphics and video clip playback. The intuitive user interface and the extensive use of automation makes it easy for anyone on your staff to learn and operate.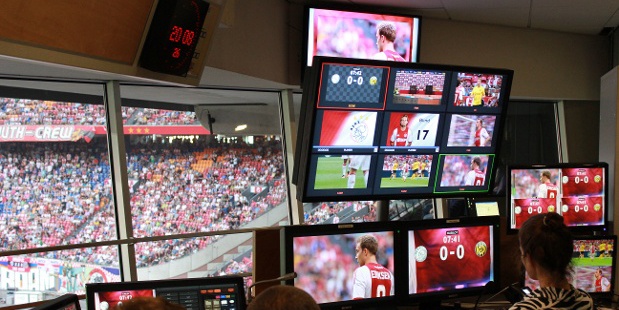 In the fast-moving environment that a sports game constitutes, it's essential to be able to play out graphics within a second after something happens on the field. With the Live Arena workflow, everything from commercials to graphics is pre-programmed. As an example, after a goal, the operator selects the player who made the goal and presses a button to show a photo of the scoring player and graphics with the live score.
ChyronHego's Live Arena not only provides the possibility of showing the score, but also additional content like commercials, mixed with camera inputs. Moreover, multiple output possibilities can synchronize the playout of content throughout the stadium, e.g. on the big screen and the in-house TV channel.

Monetize on Content with In-Game Advertising
Commercial possibilities are built-in, enabling fast & easy setup of sponsor content - even during a live game. Use this content at specific game moments in animations, announcements, or games to entertain or inform your audience. For example, you can link commercials to the game action: when a goal is scored, a specific ad is displayed on the big screen.
Operators can easily create a playlist, by dragging commercials onto a timeline, to show before, during or after the match.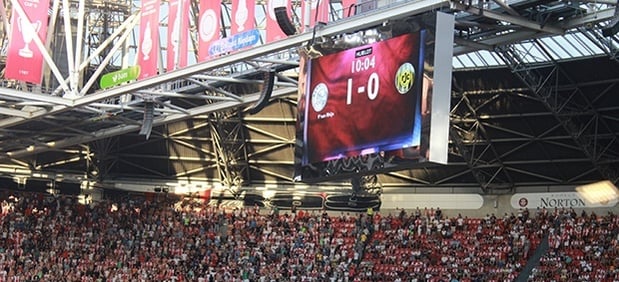 Increase Fan Engagement
Entertaining the audience during matches with interactive games, live updates and news announcements is a great way to bond with fans and increase engagement.
To improve fan experience, the operator(s) can include any from the up to 12 live inputs. Social Media tickers can be displayed to draw the spectators into the conversation. During the break, the operator can play a game with the spectator, or ask them to use social media, for example to vote for the "Man of the Match".
Traditional solutions are often complicated and hard to integrate with existing workflows. It can take up to three different systems and a whole production crew to mix camera input, videos and graphics. ChyronHego lets you show entertaining content on the big screens with a flexible and easy-to-use workflow.