NOAA – the US National Oceanic and Atmospheric Administration – has recently added a new star to the team of geo-synchronous weather satellites, GOES-R (GOES-16). GOES-16 is not just another satellite or just another version of the now so well known GOES series of weather satellites; it represents an entirely new paradigm of weather satellites. Probably the best analogy would be the new paradigm that the Tesla Motors cars represent vs. the line of self-propelled vehicles, starting with the Model T Ford, or what your iPhone camera represents vs. the once popular Polaroid cameras. The image below, courtesy of NOAA and NASA, shows the difference in image quality between the new GOES-16 and the until now used GOES-13.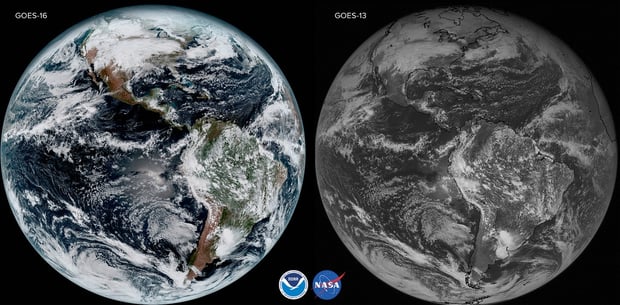 It's about clarity, accuracy, resolution. It also provides new ability for closeups and fly-over, like is seen using ChyronHego's Metacast (below)

However, what's most remarkable about the new GOES-R series is not what's shown in regularly used cloud images like the ones above, it is in what type of data is derived from the different wavelengths of light that is recorded by the various instruments aboard the satellite. The number of products available from this new generation of satellites, is mind blowing. The "cameras" (optical range sensors), include both an Advanced Baseline Imager (ABI) and even a Geostationary Lightning Mapper, which is a sensor that operates in the near infrared spectrum, detecting both in-cloud and cloud/ground lightning over entire Americas, but also in the offshore domains. The ABI provides all the traditional satellite image types, but also parameters like total precipitable water, precipitation rate (QPE), volcanic ash detection (both actual detection, but also height to direct air traffic and space operation).

Bringing this amazing new data source to the public, that's something that falls right in the focus area of Metacast, and Metacast is GOES-R-Ready! In weather communication with your audience, Image is Everything.
At ChyronHego, we believe that more data, more data sources, and more flexibility in the data provision ultimately gives broadcasters a lower total cost of ownership, but still gives the on-air meteorologists and the viewers higher value. With ChyronHego's Metacast solution, data source agnosticism has been our backbone for almost 25 years. That is what we do.
Until next time, stay weather aware and weather prepared!
Karl Eggestad, Global Sales Director for Metacast, ChyronHego


---