At ChyronHego, we focus on creating the smoothest news graphics workflow in the industry. We know our clients need the right tools to create hours of quality news content week after week. As graphic systems and the networks around them get more complex, it becomes a big challenge keeping it all simple, clean, and ready to use. These tools must encourage seamless coordination between the various departments and expedite last minute changes rather than hinder them.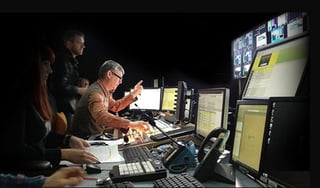 One powerful graphics creation concept is templating. Templates today have evolved beyond a lower third 'shell' in which the operator typed in a name and title before taking it to air. Now templates can populate the missing fields on their own by searching a database, or by being fed data from a remote application (elections, school closings, weather alerts etc.). The MOS newsroom uses graphics templates to build an entire show in the form of a rundown, and the rundown itself can be a template that can be reused and refilled every day as you are building a show.

So what is the next step for templates in the news production workflow?
Why not templatize many of the other repetitive tasks which occur in the control room and put them right in the rundown along the graphics content? With that in mind, ChyronHego has integrated our MOS-based CAMIO newsroom system with our Live Assist news automation system and our Hybrid virtual set technology. With these tools, the standard flow of camera moves, switching, clip playback and secondary events timing can be seen as templated actions that are assembled into a MOS rundown. The newsroom and control room teams work together to build a rundown format that can be built on, perfected, and reused daily.
This basic concept is the underpinning of the CAMIO Universe. We see it as the future of broadcast, looking beyond traditional news graphics.