In news production, it's all about engaging the audience with content they can relate to. While weather has traditionally been seen as its own segment in the news cycle, new technologies and the proliferation of environmental data sources have made weather data that supports breaking news readily available to broadcasters. Let's take a look at how news producers and domain experts such as meteorologists can start uncovering the potential that this brings to news production.
For visual productions, the applicability of weather data depends on much more than just the accuracy in the observation and forecast. In terms of value to the viewer, having access to the right types of data and flexibility in the graphics creation tool, in general surpasses the accuracy of everyday forecast data.
The most important differentiator in weather content production and indeed in the output that is presented to the public, is finding the right data, with sufficient quality to meet the visual production needs of a specific weather situation. Today, vendors can provide high resolution regional forecasting models, e.g. WRF (Weather Research and Forecasting) models, that are uniquely produced for a specific broadcaster. These models have a high resolution, both spatially and temporally (i.e. both in geography and in time), which adds invaluable details for high specificity, for content productions and for weather presentations.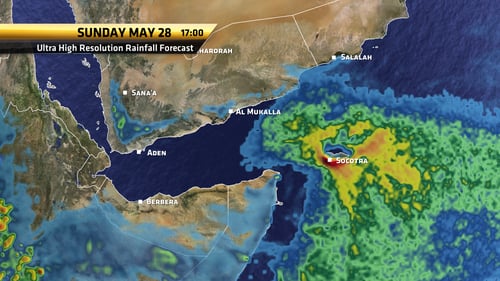 Compare the ultrahigh resolution, custom Arabian Peninsula WRF model available from ChyronHego above, against the openly available Global Forecasting System (GFS) at 0.25° resolution below, for the same exact forecast time.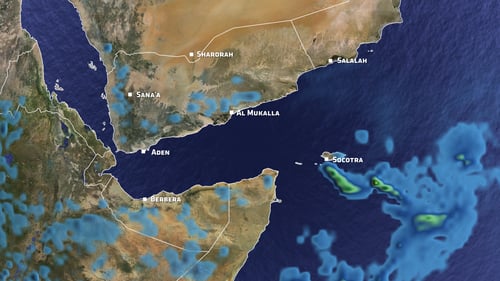 The relevancy of a specific data provider also depends on your location and profile, as different forecasters specialise in different niches.
When selecting a weather content graphics creation provider, the choice should not only be based on what solution has the nicest graphics or which vendor has the best data, more important factors to consider are choosing a system that allows a free selection of data from any source, and a vendor that has expertise in selecting from the countless data sources available today - and that facilitates the use of the data within a full weather content creation workflow.
ChyronHego's Metacast team has spent the last 25 years becoming experts in utilizing data from any source on the planet. Expertise that brings a higher accuracy to the viewer and a lower total cost of ownership for the client.
Until next time, stay weather aware and weather prepared!
Karl Eggestad, Global Sales Director for Metacast, ChyronHego


---