In a previous blog post, How Broadcasters Can Extend Their Audience Reach, I discussed the shift in the broadcasting production paradigm from baseband video to a full IP-based production workflow and how this shift goes hand in hand with the need to produce content for "nonlinear programming", available for on-demand viewing on a plethora of devices and digital channels.
The need to make content available for viewers on multiple platforms in today's digital media landscape is driven by numbers and keeping up with the customers, the viewers; wherever and whenever.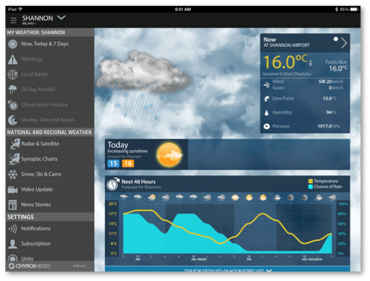 While the cost of operation and cost of ownership of modern IP-connected production infrastructure, is getting more affordable, in particular in terms of production volume and value per invested funds, the cost of investing in and maintaining your own dedicated and branded digital and mobile platforms to keep the audience engaged - is increasing.

Owning the viewership and catering to the on-demand needs of your audience is critical as this is increasingly becoming the sole means of growing advertisement revenues.
Getting out there with a custom branded, loyalty-building app is, however, now much faster, affordable and feasible than one would think. ChyronHego is offering a white label app, ready to be branded according to your custom requirements; with banners, background colors, and weather icons to match the on-air content, so that the app truly becomes an extension of your trusted, established brand. Within the app, there are significant advertisment revenue opportunities and you as a broadcaster control the entire process of revenue generation.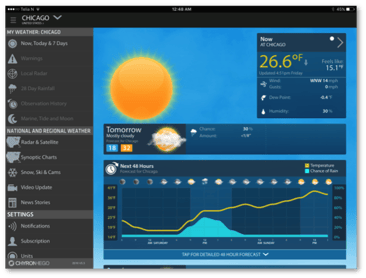 Research shows that weather, local news and sports are the biggest market drivers for the infotainment target audience. The ChyronHego Metacast white label app is primarily a weather content platform, but the video update area is also frequently used to host the latest local news bulletins and sports coverage, ensuring that the app becomes the extended content platform of choice for your viewers.
Available in all markets worldwide, with local data as well as data from ChyronHego's globally vetted, high-quality data partners, our app is the solution for your need to establish a mobile presence to retain viewers, build audience loyalty and increase revenue generation from your weather, news and sports content.
So, the answer to the question "Want to keep your viewership and increase your broadcast revenue?", is indeed: "There's an app for that".
Karl Eggestad, Global Sales Director for Metacast, ChyronHego
---