In this digital age, a challenge for broadcasters is that viewers' attention in general and young viewers' attention in particular, is divided between different platforms. In order to capture their interest, broadcasters thus need to think about compelling new ways to tell their stories. Virtual Reality and Augmented Reality are words that have been buzzing in the ears of customers ever since Facebook acquired Oculus a little more than a year ago. The recent success of Augmented Reality apps such as Pokemon Go also confirms that a very large number of people are adopting the mix real/virtual.
Changing sets is just a click away
With VR/AR being the next ultimate entertainment platform, broadcasters can already take advantage of mixing real and virtual elements together in real time to create groundbreaking TV programs. Virtual Set/Augmented Reality in a broadcast sense means being able to mix in real elements in a 3D graphics environment or vice versa - mix in 3D graphics in a real environment, all in real time - and in sync with camera motion. With these technologies, changing sets or virtual objects is just a click away. This allows for higher usability of the studio space, rendering an overall lower total cost of ownership (TCO).
Broadcasters are under pressure when it comes to traditional advertising revenues which are dropping considerably - VR/AR solutions can help generate new sponsorship opportunities and ad revenues. One example for sports broadcasters would be sponsored Augmented Reality graphics showing player results after a game. A recent study from the leading strategic consulting firm Frank N. Magid and Associates states that two-thirds of viewers ages 18 to 34 would choose the 3D digital set over real ones, while more than half of all women would opt for the virtual set for sports.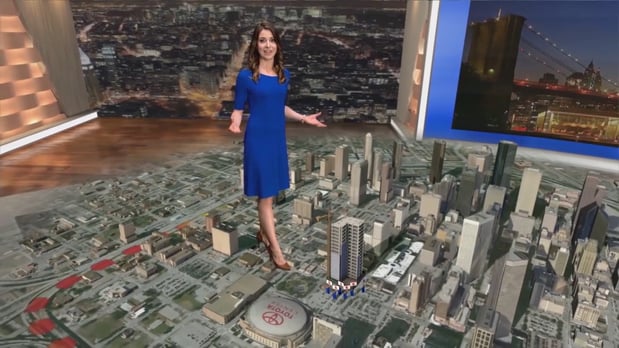 New technologies that are reliable, efficient and cost-effective
For a long time, VR/AR solutions were cumbersome and expensive as well as difficult to use. With the technical environment around them evolving to provide better hardware, followed by a drop in prices, these solutions have become more cost-effective and more easy to maintain and support. In today's world all hardware is commoditized, which facilitates replacement. This change is accompanied by the availability of new solutions around VR/AR technologies such as trackless virtual sets that allow the simulation of camera motion around a virtual set.
New camera tracking technologies are also reaching the market, such as optical tracking devices allowing to turn any kind of studio camera support into a ready-to-use tool for VR/AR applications. These technologies are also becoming reliable, efficient and cost-effective. One example is Mo-Sys StarTracker - an optical tracking system based on a constellation of retroreflective stickers that can turn any of your cameras into a state-of-the-art tracking device.
A template-based workflow is the answer
Another longtime hurdle was the workflow around VR/AR: ChyronHego's CAMIO Universe Hybrid VR/AR bridge is the answer. With the approach of allowing producers to use virtual set or Augmented Reality 3D objects as templates, producers can easily decide how to use those graphics to tell new stories in a day-to-day production workflow. 3D graphics can be used for telling stories such as weather, elections and breaking news and they can be updated directly from the newsroom to be sent on-air. This allows for last minute changes - the norm in many media organizations.
The time has come, VR/AR solutions are now mature in every aspect and ready to help media organizations respond to the constantly evolving media landscape.
---
Olivier Cohen is Product Manager of ChyronHego's Virtual Studio Solutions.