Today's Sports Venue Producers face a challenge.
How do they create an experience, one that is unique to their fans and the teams that occupy their particular arena or stadium, that will regularly compel those fans to watch the game in-venue rather than at home?
One of the many answers to this riddle is to meet or exceed the game experience fans traditionally get outside of the venue, whether at home or the local pub. The fact of the matter is, today's sports fan, no matter where they are in the arena or stadium, want to visually experience the game that they're used to seeing on live TV.
The different camera angles; the video replays; the analysis; and the enhanced graphics. By bringing inside the venue all of these outside the venue viewing experiences, producers can raise the level of fan engagement to an all-new high.
The question is how?
Let's take a brief look at where we are today.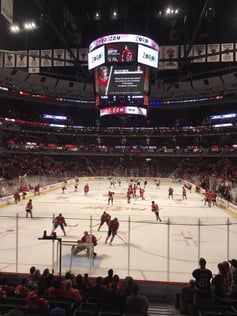 The stadiums and arenas of 2017 are a far cry from those of a generation ago. Today's venues are designed and built with fan-catering technology in mind. And by catering, I'm talking more than the ability to order a hot dog and a beer from your seat. Although for me, that's huge! What I'm really driving at are the types of fan-attracting technology that convinces a fan that a trip to the stadium or arena is better than a trip to their living room sofa.
For example, let's take a look at today's video boards. The variety, the shapes and sheer size of video boards at today's modern venues are awe inspiring when compared to those of yesteryear. And the content presented on those boards by in-venue producers are created exclusively for those fans that made the trip to the game. The term "As Seen On TV" most certainly does not apply here. This show is for the fans at the game.
Whether traditional game stats or virtually enhanced, the leading types of content flashed upon these video boards are graphics. The push/pull dilemma of innovation versus tradition really doesn't apply here. Fans want both and fans want more of both. It's worth stating again, fans want to visually experience the game that they're used to seeing on live TV, and in-venue producers now have the tools necesary to deliver on that demand.
Technology providers, like ChyronHego, are leading the way by offering a variety of advanced graphics applications such as sophisticated augmented and virtual reality graphics or replay telestrated highlight content that can be created before, during, and after the game. These graphics applications, which are widely used by broadcasters, are now available in one form or another for in-venue productions.
A key driver for in-venue adoption is the video and sports agnostic nature of ChyronHego applications, which provide a quick return on investment through their use across multiple live sports productions.
Want to show in-stadium football fans how many yards to the first down marker on your Center-Hung video board? No problem!
Want to show your soccer fans the ball's trajectory during the game-winning penalty kick on your stadium's corner video board? Easy!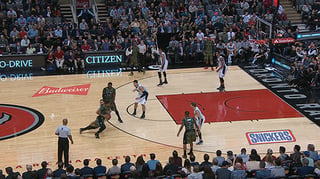 Want to place, within live video, revenue generating virtual graphics directly on your basketball arena's floor? Cha-Ching! This Bud's For You!
All of these traditionally outside the venue game viewing experiences are now available inside the venue. The challenge facing in-venue sports producers is no longer insurmountable.
Got your game face on?