We're just a few weeks away from the release of an all-new version of LyricX. Over the last many months, ChyronHego's product management and engineering teams have been laser focused on delivering to our customers a significantly improved usability and performance experience.
From the outset of its initial development the goal for LyricX , a winner of the 2016 TV Technology Best of NAB Show Award , was to surpass Lyric PRO's well-earned reputation for innovation, high performance and supreme reliability.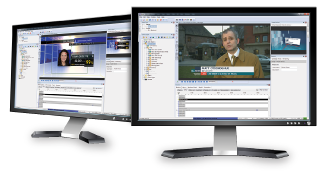 As we approach the upcoming release of LyricX 2.0, we're confident that we've achieved this goal while retaining all of the most popular features designers and operators have come to know, love and rely on.
We're fond of the statement that LyricX is Graphics for the 4K Generation. LyricX is the most widely adopted 4K graphics creation and playout solution available today. In fact, LyricX was selected by BT Sport for early adoption 4K proof of concept trials. Those proof of concept trials have now matured to the point where BT Sport produces a multitude of UHD-based programs every week. Your can read our blog on BT Sport's move to 4K graphics production by clicking here.
This latest version of LyricX is completely UHD-ready when powered by the HX Graphics Platform from ChyronHego. LyricX UI optimizations and the latest performance enhancements in 64-bit architecture, make for lighting fast graphics recall.
What else can you expect from LyricX 2.0?
A New Timeline
LyricX's Timeline is now faster and easier to use when building and animating graphics. And, an improved usability experience and easy access to an extensive feature set means LyricX is now faster and more intuitive than ever.
New Scene Graph with Filtering
LyricX's highly intuitive Scene Graph with Filtering makes it easier to identify and find elements.
Your Workspace. Your Workflow. Your Way.
LyricX's updated user interface, now with docking panes, makes it easy to customize and personalize your workspace to suit your workflow. The result is that LyricX is now easier to learn and even faster to navigate.
Want to take a deeper dive? Jump in and take a tour of the new LyricX user interface and learn why everyone is talking about the incredible benefits of transitioning to LyricX.