"May you live in interesting times."
Given the exceedingly rapid pace of change that we, as broadcasters and broadcast technology providers, are experiencing in our industry that ancient quote seems appropriate for the current time and perhaps even the future.
According to Wikipedia, that quote is an English expression purported to be a translation of a traditional Chinese curse. While the advent of IP, OTT, UHD and other seemingly acrimonious acronyms have upturned our traditional broadcast infrastructure and workflow apple cart, perhaps the technology transformation we're experiencing doesn't quite reach the level of a curse.
In fact, I think it is more akin to another, more motivational type of quote, "When opportunity knocks…".
Welcome to the PRIME Ecosystem.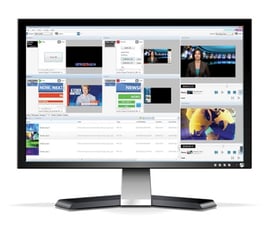 ChyronHego has, over the last seven months, been actively developing and promoting a new platform that provides more value, more performance and a lower total cost of ownership.
The PRIME Ecosystem is a multi-use, integrated solution. It is scalable and centralized. It serves today's broadcast environment while providing an open architecture that welcomes future development and support for newer CPU and GPU technologies that are rapidly advancing.
The PRIME Ecosystem is based on the latest version of our powerful resolution agnostic, high performance 64-bit render engine, with support for a branding package, a clips package, an integrated design tool, built-in content distribution and more including, very soon, a news package.
In keeping with the times, the PRIME Ecosystem is software-based and not dependent upon hardware. Former hardware-dependent features such as DVE, clips, audio mixing etc., are now all driven by software, making the PRIME Ecosystem an extraordinarily flexible solution.
Indeed, we do live in interesting times and opportunity is knocking. ChyronHego, always the type of company that accepts a challenge, has answered. We are embracing change and working every day to offer you, our customers, solutions that solve problems.
It's a prime time to learn more about ChyronHego's PRIME Ecosystem.