These are challenging times for news broadcast operations around the world. Newsrooms are shifting away from traditional content creation workflows based on disconnected hardware systems, and towards integrated software solutions that leverage standard IT hardware and technologies.
It's a sea change in approach that requires broadcast technology leaders to re-think their operations from the ground up.
The CAMIO Universe is our vision of a next-generation, software-driven broadcast operation is capturing the attention of broadcasters around the globe, and momentum continues to build as ChyronHego customers begin to reap the benefits.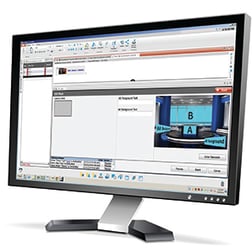 The CAMIO Universe creates a comprehensive and integrated software ecosystem for producer-driven news production workflows, with producers and journalists directly involved in the process of creating and managing content.
In the CAMIO Universe, producers and journalists easily create and integrate, into their newscast, content that includes Lyric graphics, Metacast weather graph­ics, and Hybrid virtual and augmented-reality studio content, all controlled by ChyronHego's Live Compositor multi-camera production suite.
We hope you will take the opportunity to consider the advantages of this exciting news production model.
Intrigued? Then read our eBook and learn how broadcasters are accelerating their newsroom's productivity with ChyronHego's CAMIO Universe.