One of the most prominent broadcasting technology trends right now is the move from baseband video (cabled video signal from one production device to another) to a full IP-based production workflow. The shift towards nonlinear TV, in particular via mobile and Internet streamed media, is led by industry trendsetters such as Netflix, YouTube and Vimeo, with a rapidly increasing audience. In fact, today's young viewers, ages 13 - 24, consume 2.5 times as much Internet video as TV*.
This shift is in some ways viewed as a threat to traditional broadcasters since revenue from broadcast advertisement and sponsorship cannot necessarily be extended or replicated within streaming-based broadcasting. And this is where fast, streamlined data-driven content creation can make a huge difference.
Consider for a moment that viewership of the prime time news show on main broadcasting networks has fallen 20-40%, over the last 12 to 18 months at the same time that the most dominant trend is to consume short infotainment and news broadcasts on the go, through social media portals, dedicated mobile apps and YouTube subscriptions. As a result, to maintain and increase the viewership reach, news broadcasters are shifting production into easily disseminated, targeted, well formatted and special segments. For this, a workflow that is flexible and highly automated allowing rich and continuously updated content is a must.

ChyronHego has solutions that specifically enable news, sports and weather broadcasters to expand production volume without adding staff resources or compromising on quality or content accuracy. And specifically for weather, ChyronHego's Metacast is the perfect solution for creating continuously updated, stellar-looking weather segments. Metacast caters not only to the regular newscast and weathercast audiences, but it also facilitates special interest and narrow audience productions that create an entirely new audience segment.

For example, the image below of the San Diego Golf Course is for a regular broadcast client producing a podcast that caters specifically to a growing community of golf enthusiasts. It highlights Soil Moisture Content, a critical parameter for turf quality on golf courses, combined with highly accurate pin-point weather forecasts for the coming three days.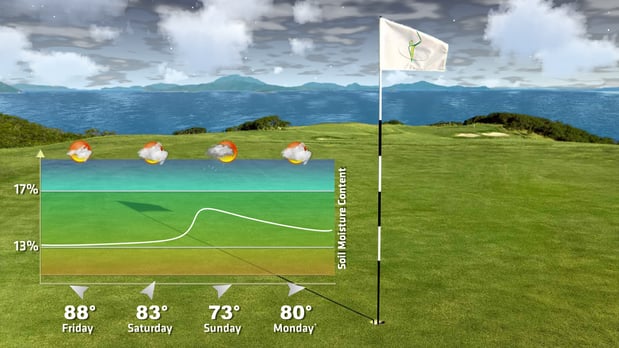 Special interest content such as the above, can be automatically produced with no extra staffing or costs adding high-value revenue potential by attracting a loyal new viewer group, as well as adding benefits such as enhancing online and mobile presence.
Back in September at the IBC Show in Amsterdam, ChyronHego demonstrated how Metacast is now integrated with the CAMIO Universe so that news operations can instantly access high-value data, carry out template fulfillment, and produce continuously updated weather content with the touch of a button. Creating additional special interest content is just as simple. Broadcasters worldwide are embracing the ease with which the weather desk can now be integrated with the rest of the news operation for linear and non-linear content production alike.
Until next time, stay weather aware and weather prepared,

Karl Eggestad, Global Sales Director for Metacast, ChyronHego
*According to a recent study by digital media firm Defy Media
---